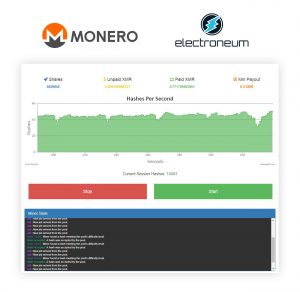 What is MoneroMiner.Rocks?
MoneroMiner.Rocks was designed and built to allow users to easily start mining the cryptocurrency Monero (XMR) and Electroneum (ETN).  The Pool+ Browser Miner is easy to use and has all the latest web mining capabilities built in.  You do not have to download or configure any software to get started mining cryptocurrencies with your computer.
What is Monero?
Monero is an open-source cryptocurrency created in April 2014 that focuses on privacy and decentralization that runs on Windows, macOS, Linux, Android, and FreeBSD. Monero uses a public ledger to record transactions while new units are created through a process called mining.  SRC: WIKI
What is Electroneum?
Electroneum has been designed and built to give ordinary, non-technical users a chance to obtain and enjoy a cryptocurrency. They have developed an iOS and Android app that not only contains easy wallet functions, but also allows a mining experience to let anybody get into cryptocurrency within minutes of downloading a free app.  SRC: WIKI
What is Graft?  Coming Soon…
Graft is a rare ICO project with its own blockchain. The team is so dedicated to mainstreaming cryptocurrency and creating a merchant-friendly solution that they have developed a blockchain that is built around the merchants' systems and processes, bringing together the most advanced techniques in the space and resolving the issues with the other cryptocurrencies. Soon, merchants with Graft will be able to accept crypto at the point of sale as easily as they do with cash or credit cards.  SRC: Bitcoin.com (Paid Press Release Jan 22, 2018)
---
Check out the Pool+ Miner Below.
You can try out the miners above before registering an account.
---
Mining can be profitable but it can also be non profitable depending on electricty costs, price of the coin and hash rate.
It is good to do some research before you start mining.